Everyone enjoys a video of overly-confident people meeting instant karma, especially when those people actually are cocky fighters. We have discovered a similar video featuring MMA fighter Johnathan "Big John" Ivey. Johnathan Ivey is no amateur fighter, he is widely recognized in the MMA leagues. Although his fame does not come from his skills or expertise, he is still considered a legend. Ivey is some kind of an Internet phenomenon.
Ivey's tomfoolery is spectacular for the fans. He repeatedly walked to the cage in multiple horror movie customs. So far he has dressed up as Freddie Krueger, Jason Vorhees, Chucky, Michael Myers and Leatherface. His worse trick so far is when he reacted a sex act over a bent over an opponent.
Ivey once pulled his own version of the 'People's Elbow' and proudly talks about it. He said: "Oh, man – when I dropped my version of The Rock's 'People's Elbow' on heavyweight fighter Joe Nameth in New Orleans, it did not even occur to me that the moment would live on forever. It was just something silly I did to entertain the crowd but that clip has been circulating all over the World Wide Web, landing on YouTube and countless other websites."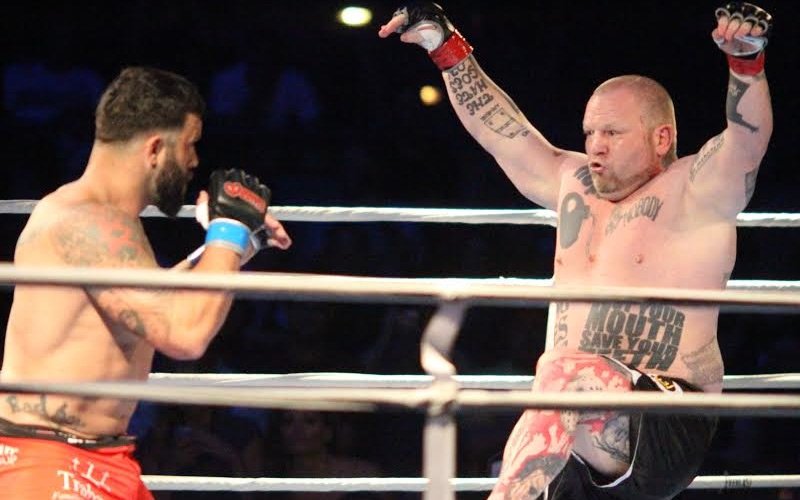 Ivey's fighting history is not bad at all. He holds a record of 32- 56. He managed to submit Harry Moskowitz who is Six-foot, five-inch and weighs 275 pounds. Impressively Ivey had his first professional fight after only going 2 times at an MMA gym.
Also, Ivey tried out and managed to pull out the Karate Kid Crane-Kick against Ricco Rodriguez in 2008. Later, Ivey bragged about his kick, saying: "I believe I became the first fighter in MMA history to successfully land the 'Karate Kid' crane-kick in a live fight." He also stated that his kick will surely be a national sensation on the Internet. "I guarantee you that! Mr. Miyagi would have been proud of me." However, our footage shows the bad side of Ivey. At the start when the fighters are touching gloves, Ivey is grinning his face, showing his teeth and taunting at the camera. Although he does this in order to intimidate the opponent, it is not necessary.
The opponent Hikaru Sato remains peaceful while they are touching gloves, but later he shows that the toughest guy in the room is the silent one.
Ivey still shows how cocky he is by performing the "Karate Kid" crane kick and exchanges some leg to leg kicks with Sato. A moment later, Sato manages to pull a punch in Ivey's jaw, knocking him senseless to the ground. After that Sato immediately charges to Ivey in order to lock down the win. We are not sure that Ivey learned his lesson after this fight, but it looks like Ivey will keep doing things his own way and always entertain the fans. However, there is a bright side of Ivey, his four-year-old daughter Savannah. Ivy is determined to keep his safe and always offer the best for her.
Check-out the video below: